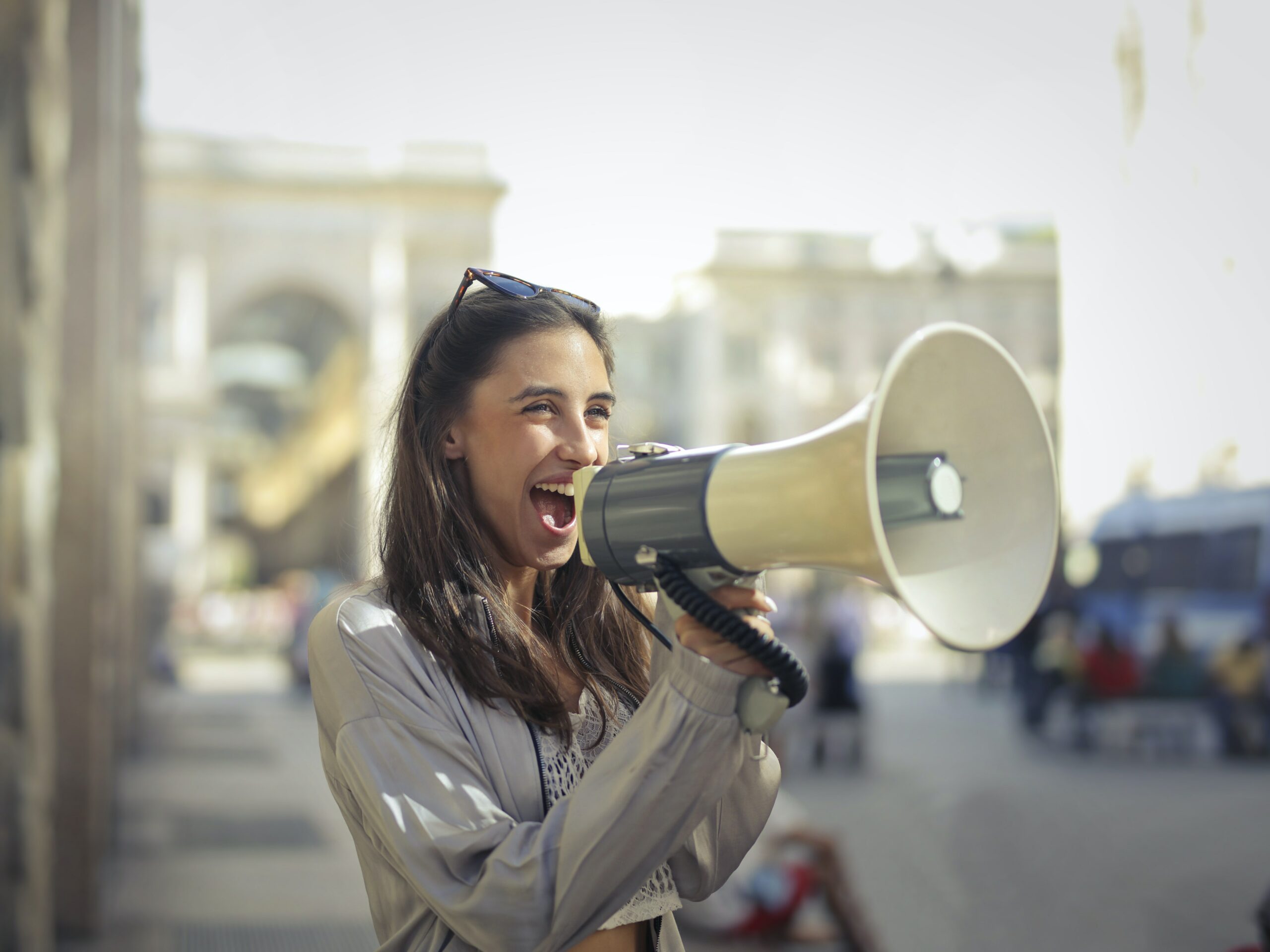 Turning your local story into something with national news potential may seem a daunting task, but the potential rewards are invaluable to your business. If successful, taking your local news to the national media can increase exposure, bolster brand recognition, and widen your potential customer base – so it is always worth looking at your story and seeing if it has the potential to be of a wider interest. 
For instance, a small business owner based in Warrington might assume their story's appeal is confined to the local community. However, when a business blends its unique product or service offering with a relatable back story, a powerful brand and a newsworthy angle, the story has the potential to transcend its geographical limitations and ignite national interest.
Let's take a look at how to turn a small-town story into newsworthy content, with the potential to gain traction on a national scale:
1. Spot Your Unique Angle
Step one in turning a regional story into something that grabs national attention is taking the time to identify it's unique and noteworthy factor. This means delving deep into the heart of your business, product or service, and exploring the qualities that set it apart from its opposition.
The key is to perceive your story through a lens of both scrutiny and curiosity, seeking out the distinctive elements that hold the power to engage an audience beyond the local community. Uncovering your story's unique and noteworthy angle paves the way for creating a story that transcends local media, and piques the interest of a wider audience on a national scale.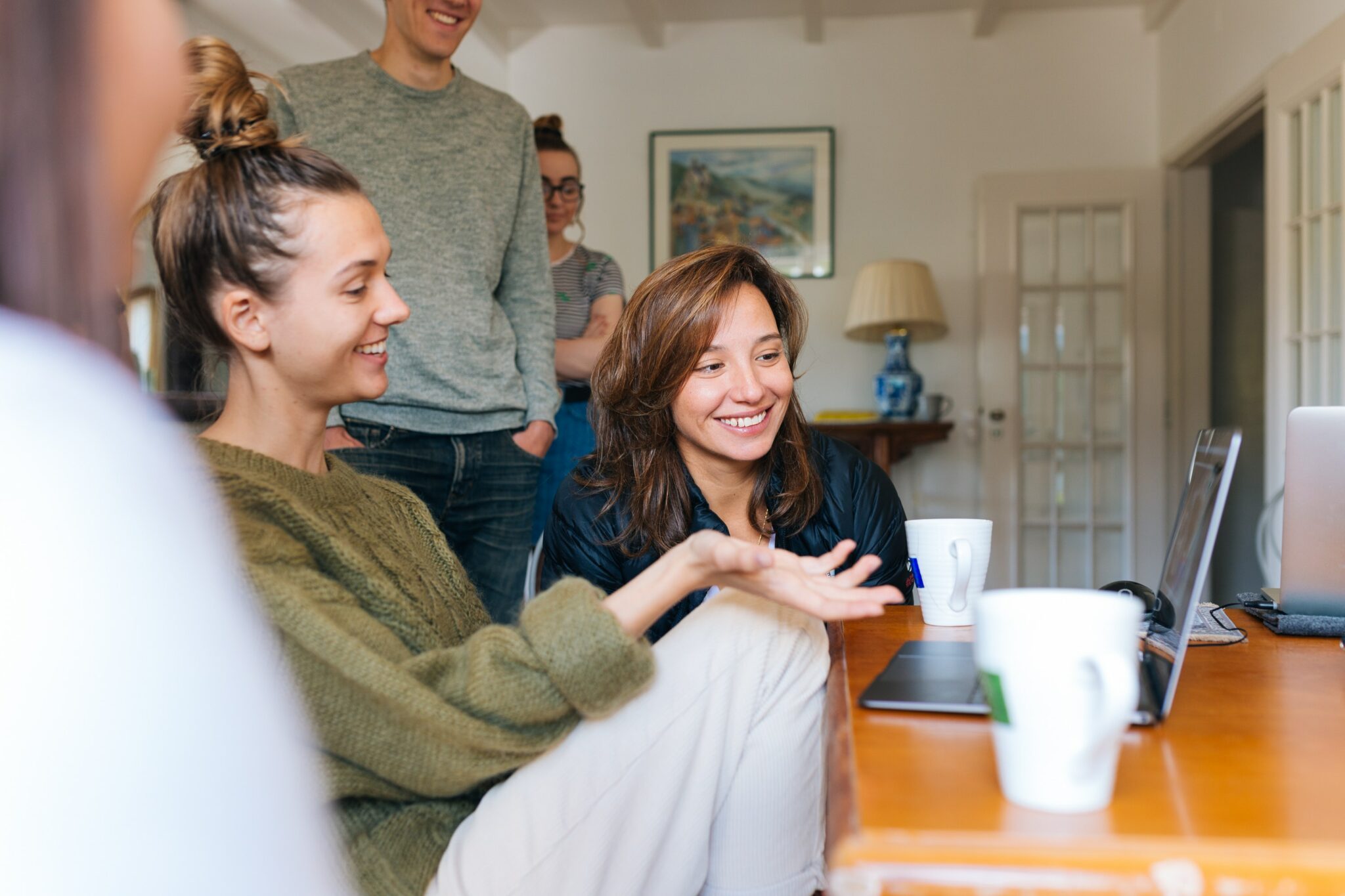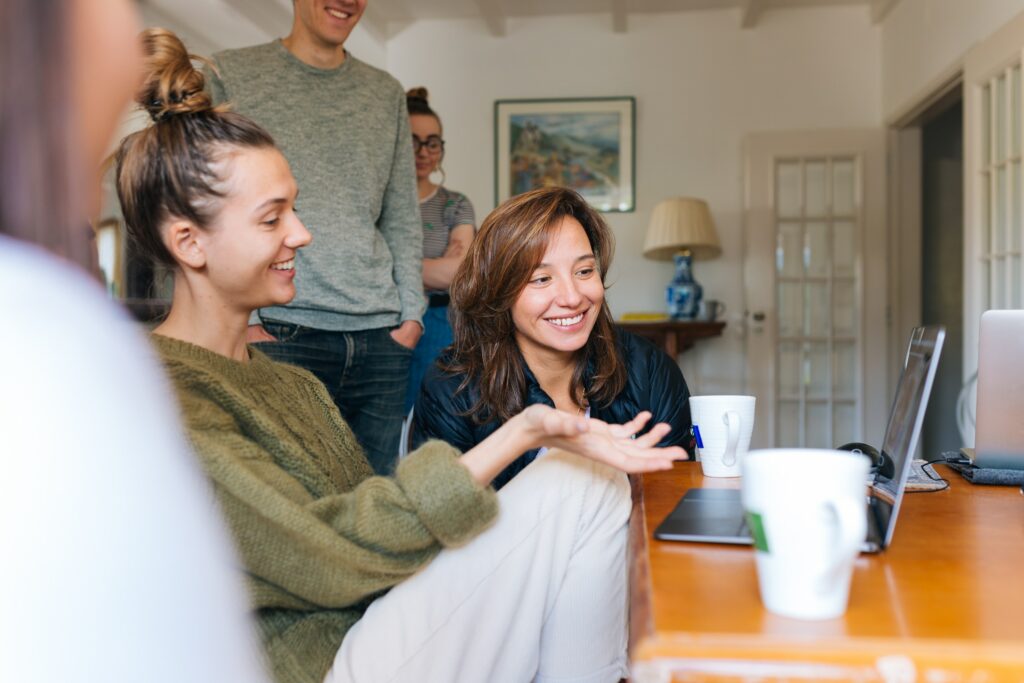 2. Tap Into Trends
To truly elevate your regional story, it's useful to establish connections to broader trends and ongoing national discussions. By weaving the threads of your narrative into the fabric of larger societal issues, you can magnify its impact and relevance across a much wider audience.
To make this happen, pinpoint and accentuate how your story, or your business, addresses concerns or resonates with topics currently captivating the nation. Whether your story relates to environmental issues, social justice, technology, or any other hot topic, aligning your narrative with trending themes enables it to make waves beyond its original locale.
When readers or viewers encounter a regional story that speaks directly to their own values, interests, and anxieties on a broader scale, a sense of shared importance and relevance is kindled, igniting an emotional connection. So, delve into the trends and issues dominating the national conversation, and intertwine the essence of your story with these overarching themes.
Showcase how your business, product, or service offers innovative solutions, fresh perspectives, or uplifting stories that contribute to the greater societal narrative.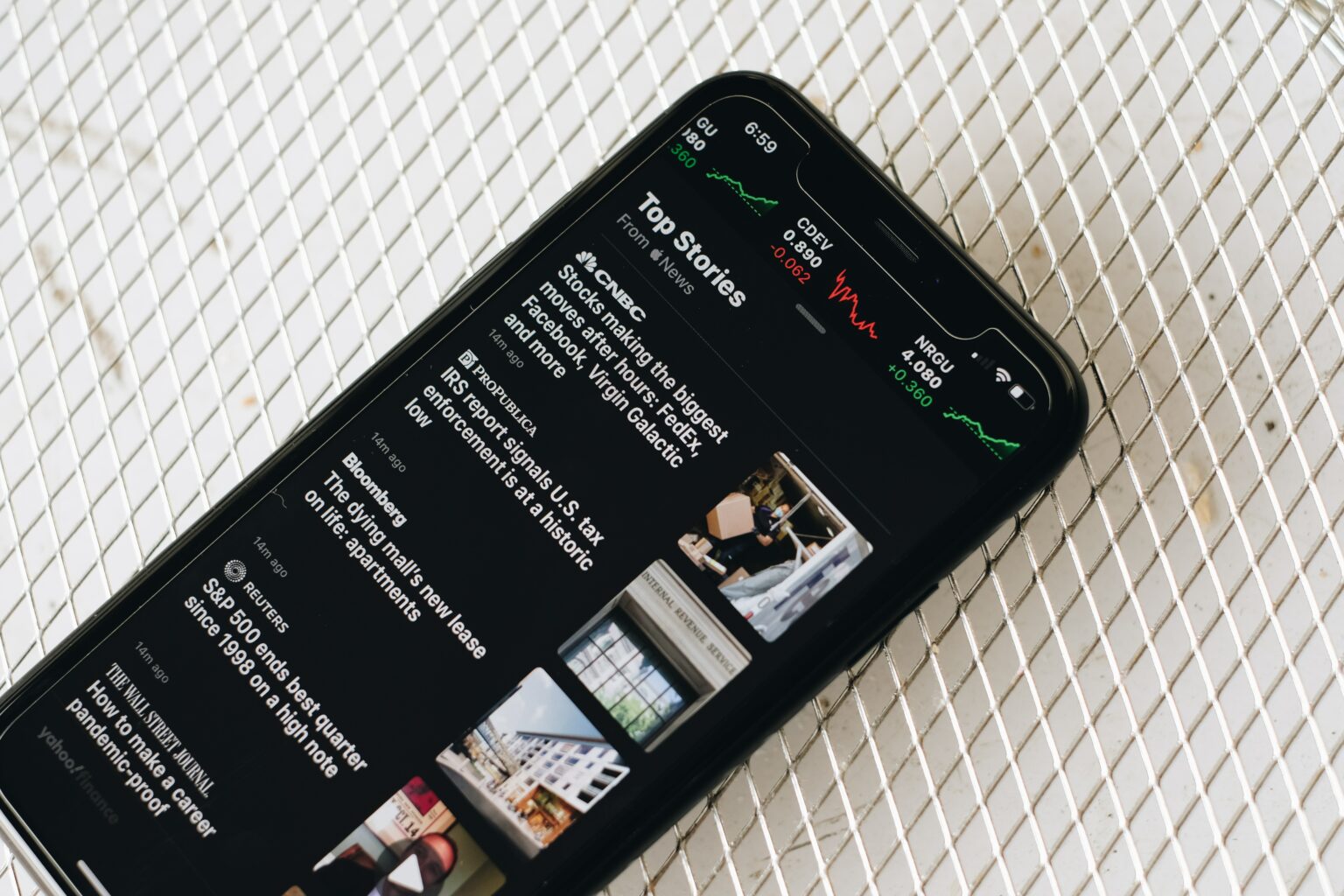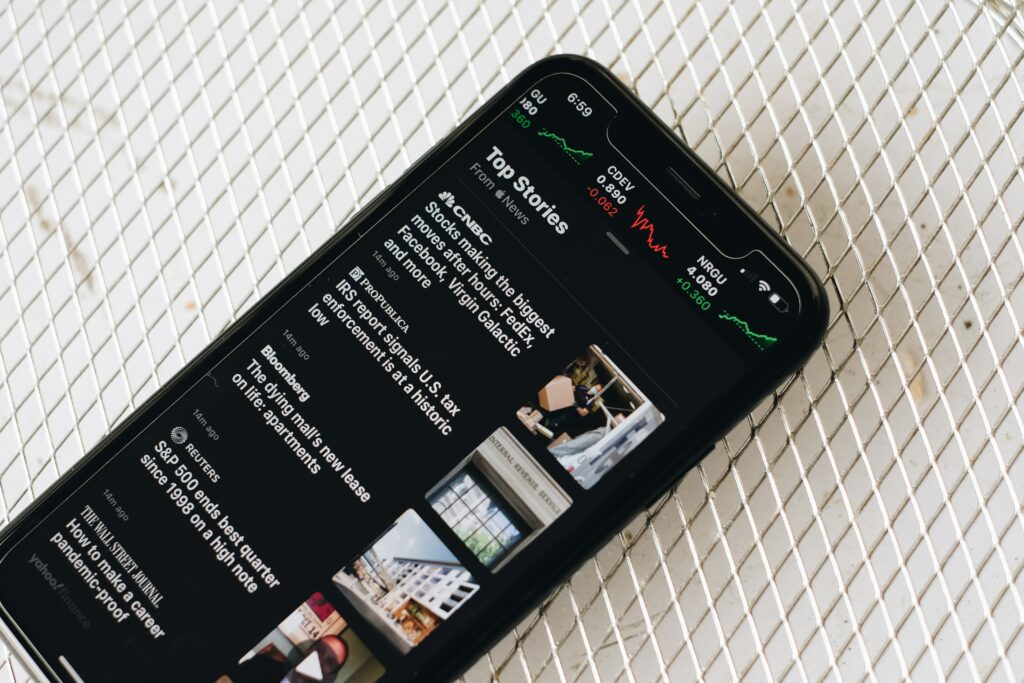 3. Extend Your Outreach Strategy
Media outreach is an indispensable step in garnering national attention for your regional story, but it's crucial to carefully consider your strategy when engaging with various outlets. Targeting local media outlets (including newspapers, radio stations and television channels) that hold a vested interest in covering community news lays a strong foundation when it comes to leveraging local news coverage to expand your story's reach.
As your story gains traction within the local sphere, this coverage can act as a powerful catalyst for getting your story the attention it deserves on a national scale.
4. Boost Your Story with Data
Robust data and research substantiate the claims made in your story, and underscore the significance of your product or service. What's more, surveys, studies and statistics lend an authority and trustworthiness to your story, captivating both the discerning eyes of journalists and the curious minds of readers.
With evidence from trusted and reputable sources, you fortify the foundation of your story, transforming it from anecdotal to compelling and fact-based. Statistics paint a vivid picture of the impact and relevance of your product or service, and the judicious integration of data and research allows you to position yourself as a thought leader within your industry.
By conducting your studies or collaborating with authoritative sources, you assume the role of an expert who stands at the forefront of innovation and progress in your niche, enhancing your story's allure and attracting the attention of journalists seeking authoritative voices to feature in their publications. By combining the art of storytelling with the science of data, your narrative not only captures the imagination, but also leaves an indelible impression that resonates.
Success Stories
Here are some examples of PR Fire campaigns that have managed to attract national attention: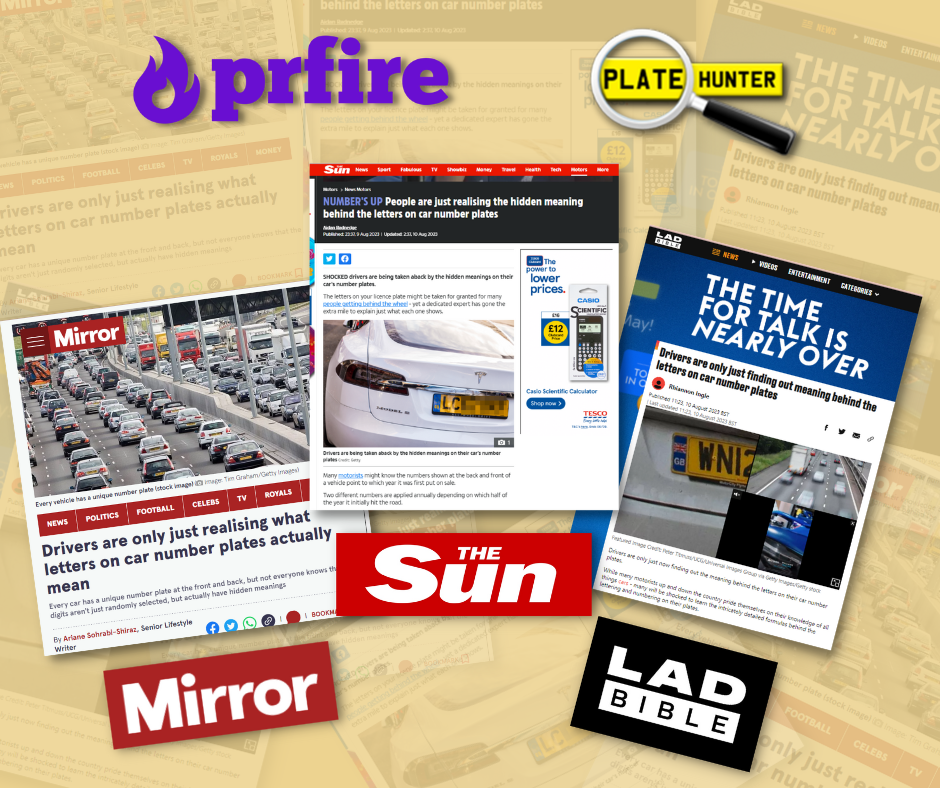 Platehunter
Platehunter is an online retailer which specialises in all things to do with private registration plates. It is an outlet where customers can buy, sell or get their current number plate valued, with a head office in Telford.
In order to appeal to a wider audience, and attract national coverage, we have worked together to come up with campaigns that appeal to just about everyone who owns a car – or knows someone who does.
One of our most successful campaigns involved us listing all the banned plates that have been banned by the DVLA this year ahead of the new '73' registration plates being released in September this year. We obtained this information ourselves and therefore it was exclusive to us, and allowed the story to be substantiated by information from a reputable source – making the content useful, informative and relatable to a wide audience.
Another success story involved giving motorists handy advice on how they can avoid being hit with hefty fines for avoidable errors when it comes to their vehicle. Avoiding costly fines is a societal issue that resonates nationally, allowing the story to speak to its readers on the national stage.
As of August 2023, we have already produced campaigns for Platehunter that have featured on several highly reputable news sites, including Daily Record, Daily Mail, the Independent, Auto Express, Mirror, The Sun, Lad Bible, Top Car News and many more. Our secret recipe? A compelling mix of relatable headlines, industry expertise, and information straight from the trusted DVLA.
With each campaign, we've not only captured the attention of a national audience but also sparked a regional firestorm, featuring in Wales Online, Norfolk Live, Liverpool Echo, Teeside Live and more, helping to build the momentum for these stories to go national.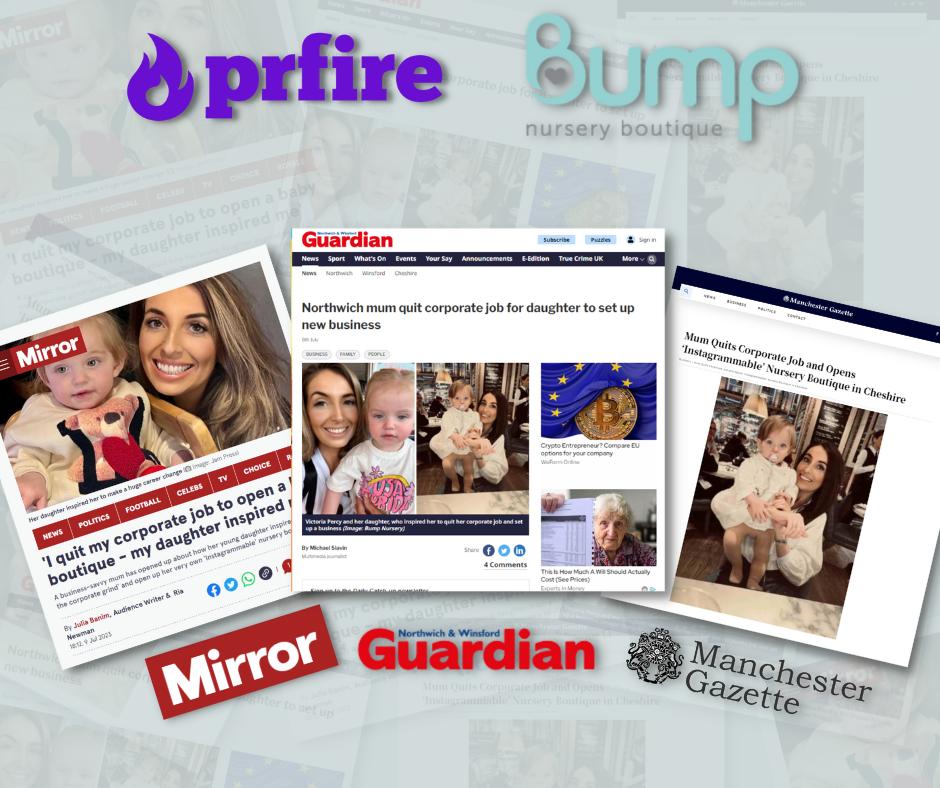 Bump Nursery Boutique 
Bump Nursery Boutique began working with PR Fire earlier this year, and has already been impressed with the coverage amassed.
The luxury boutique is based in Northwich, and specialises in giving parents-to-be the opportunity to make purchasing a pram or essentials for their unborn baby the 'occasion it should be'.
After having a consultation with a campaign manager, it was decided that the couple behind the business – and their daughter – were the inspiring and relatable faces behind the brand, and should be the subject of a story about how they came to open their business.
One owner, Victoria, courageously traded her stable corporate job to open the Instagrammable nursery boutique in the heart of Cheshire after being inspired by her daughter.
In a society where the clash between parenthood and career is consistently a topic of interest on a national scale, Victoria's story emerges as a relatable anecdote. As mothers across the UK grapple with the relentless surge in living costs and childcare expenses, Victoria's bold and brave career change strikes a chord that resonates on a national scale. Her tale of courage, creativity and inspiration not only celebrates her own ambition, but also beckons to those who yearn for a similar blend of family and career, igniting an emotional connection that echoes nationwide.
Our decision to share details of this journey proved successful, as we secured coverage on the Mirror – as well as locally in the Northwich Guardian and Manchester Gazette, testimony to the universal appeal of one woman's determination to carve her path while inspiring others along the way. With the uniqueness of Victoria's brand, the relatability of her story, and the emotional connection forged with so many readers, Victoria's local news story became a national success.
If you would like one of our experienced campaign managers to help to get your release into the very best shape for distribution, then contact us to book a consultation.